FASHION DESIGN
︎ youthartexchange.org
Youth Art Exchange exists to make sure that San Francisco public high school students have this critical access to the arts. Our mission is to spark a shared creative practice between professional artists and public high school students, furthering youth as leaders, thinkers, and artists in San Francisco. We offer free, multidisciplinary arts programs after school, in school, and during the summer.

Our vision is that every public high school student in San Francisco will have access to meaningful, in-depth arts education that amplifies their voices.
In the Fashion Design class, students design and sew their own original fashion pieces + clothing. They learn to use sewing machines, hand stitch, and work with different fabrics and dyes. This session, students made totes, masks, and customized t-shirts.

Faculty artist: Francesca Mateo, with support from Julian Dash and Emily Fishman

Youth artists: Alexa G, Amber L, Angelina Z, Annie A, Carina R, Dalya D, Isabella W, Jessica G, Jocelyn P, Juwairia S, Leena B, Lisa W, Michaela N, Sienna B, Tammy Z, Tiffany L, Trisha N


Dalya D.

Senior at Lowell High School

Face
Canvas, Embroidery

For this tote, I embroidered faces onto 4 pieces of warm toned scrap fabric and arranged them in a window like pattern to sew into a tote bag. The inspiration came from the fires that happened in September so the faces represent people who have lost something from the fires. This is also why I used warm tones such as red and yellow.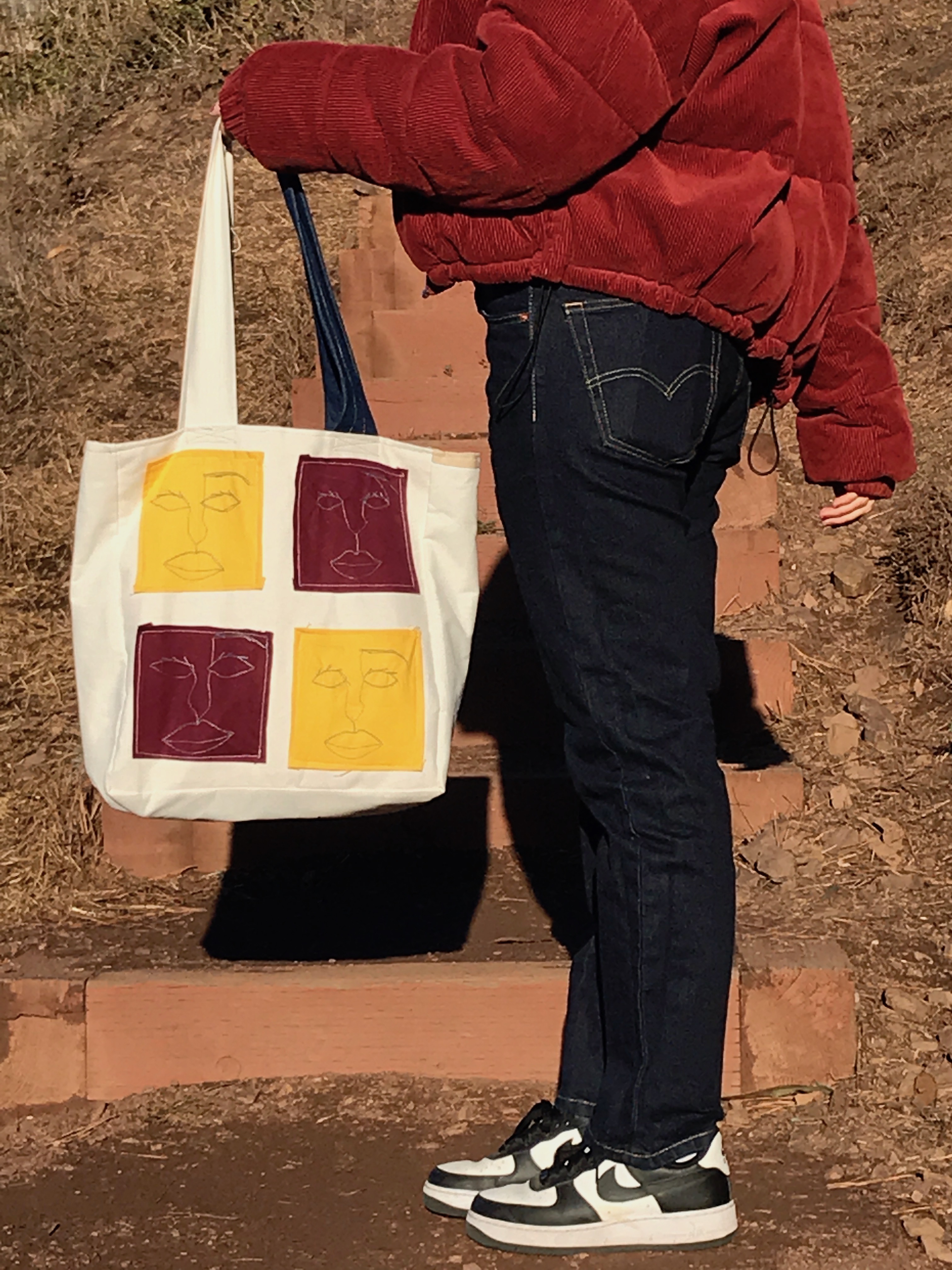 Random
Canvas, denim, fabric paint

I made a half denim, half canvas mask with a small pocket on the canvas side. This small pocket has an abstract design in it. I felt like mixing this mask pattern up after making so many to add a pocket. I put money in the pocket but it can also fit chapstick, matches, and earrings.
Jocelyn P.

Senior at Balboa High School


BO$$ Bag: For this tote, I was inspired by the fashion powerful women have around the world, although I did specify it towards Japan.

Blossomed Pink: For my mask, I added a couple of sakura petals and flowers falling from their tree by what I imagine is the spring breeze as they are in their best season.

Petalled Tower: For the cropped shirt, I combined both of the designs of my bag and mask by adding the pink sakura flowers and the Tokyo Tower.
Amber L.
Junior at Lowell High School



Starlight Mask

For this mask, I used a pattern I found on the internet and cut out two pieces of cotton (blank white) for the interior of the mask, and cut out two pieces of fabric (star pattern) I found in a closet for the outerior. The straps are recycled from disposable masks. I photographed this on my bed and used wallpapers from YouTube videos to create moodier lighting. I also added some jewelry I made in the photo to add to that sparkling star effect, and for more pizzazz.
Attemps to Kill Bill Mask

For this mask, I used a pattern I found on the internet and cut out two pieces of cotton (blank white) for the interior of the mask, and cut out two pieces of canvas for the outerior. I then embroidered a cross design inspired by the nurse-assassin in the infamous Kill Bill whistling scene. The straps are recycled from disposable masks. I photographed this on my bed with some knives and gloves, and used a video of red wallpaper on my screen to mess with the lighting.
Juwairia S.

Sophomore at Balboa High School

Holding On To Hope
Canvas, leather, embroidery thread

For this tote, I was inspired by a lineart I saw of Michelangelo's Creation of Adam. Although I wasn't really into its religious connotation, I still wanted to include the aspect of reaching hands. Through this design, I wanted to express how hope can often be the only thing pushing us forward. During difficult times, it can feel out-of-reach, but we have to remember that there is always hope, even if it can be hard to hold on to.

Butterfly Mask
Butterfly printed cotton fabric, golden embroidery thread, white embroidery thread, beige fabric

For this reversible mask, I used one of my own patterns to create a piece that can be worn with a multitude of outfits. One side is made out of beige fabric, while the other is created with a butterfly printed one. Through this design, I wanted to convey how art has many sides and is as essential to us as butterflies are to nature.
Carina R.
Freshman at Lincoln High School


Flower Power
White Corduroy Fabric, paint, elastic
For this mask I was inspired by my favorite decade, the 70s! I had the idea for the flowers because I was scrolling through Pinterest and I saw this catalog from the 70s and the model had these flower earrings that inspired me to use them as a pattern on my mask. I decided to use corduroy because I wanted to use a thick fabric that was thick enough to pass the lighter test.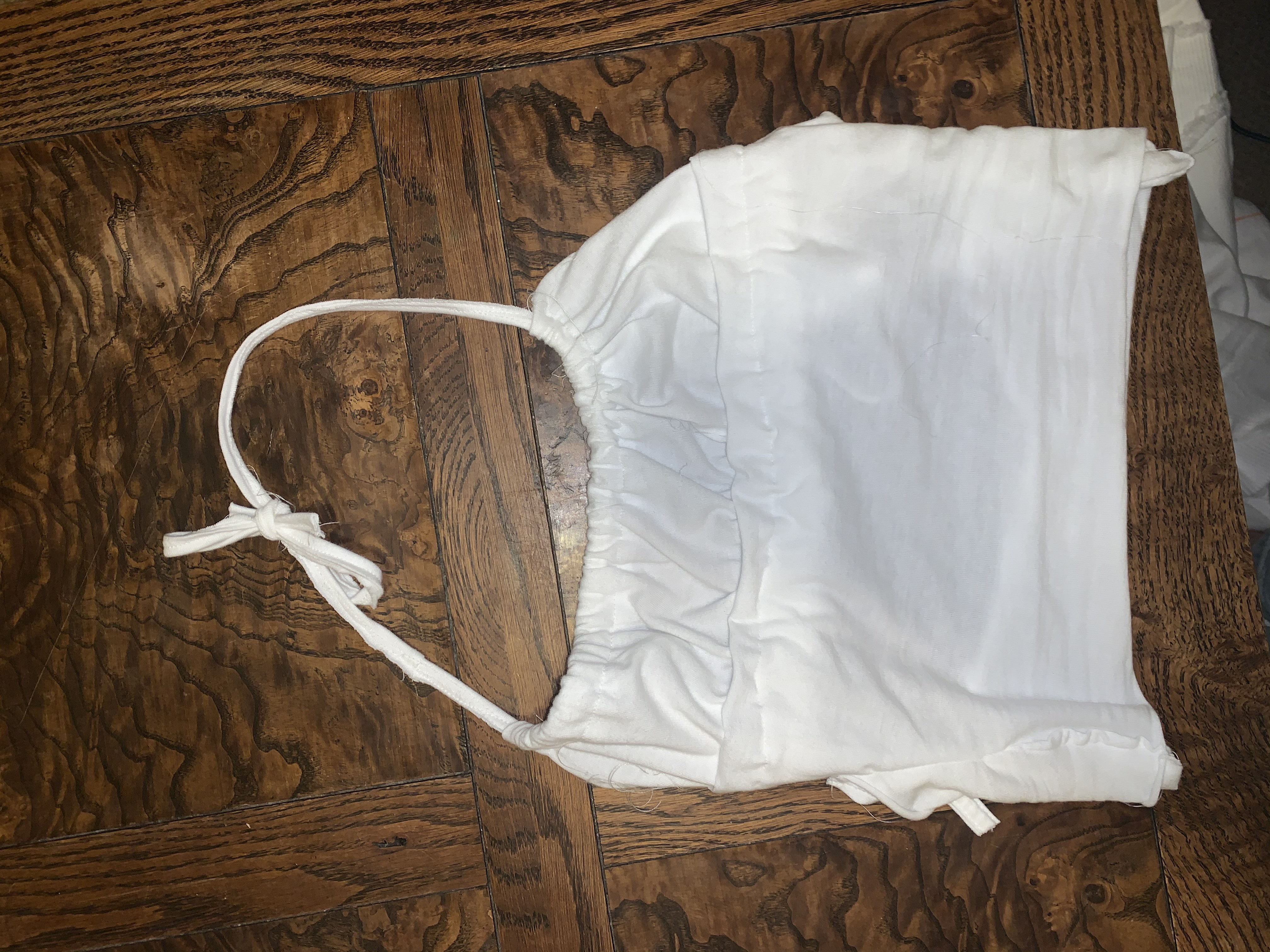 Strings Attached
Everlane XL T-shirt
I tried to make a ruched halter top out of a T-shirt. It ties twice, one for the neck and one in the back. I had a lot of fun attempting to make a halter top out of a T-shirt but one difficulty I had was trying to make the tighter fitting top not see through. To make the top less see through I added the ruched detail.

爱
Canvas, paint

爱 means love in mandarin. I made a tote bag but I didn't see myself using it often so I used the scraps to make a mini tote bag.
Leena B.
Junior at Lowell High School



Aqua (mask)
Scrap from old cotton tee

For this mask, I decided I wanted to intertwine one of the most essential things one could need; water, with something essential to our current lives; masks. This piece shows how you can create a fashion statement all while reminding those around us of what is vital for our survival.
Isabella W.

Sophomore at George Washington High School


Fantasy
Canvas, paint

For the tote bag, I hand sew the pieces of canvas together. I wanted a small and easy tote bag to carry around, or to bring with me when I hung out. I really like mythical creatures, so I also painted a dragon onto the tote after sewing. I used bright fabric paints, which made my tote bag super colorful, which I loved. I painted the dragon with the help of a stencil, which we learned about in Fashion Design. I made the stencil by first drawing, and then I slowly cut out the outline of the dragon.

Simple and Casual
White XL T-shirt

For the wrap top, I had to cut it a lot to make sure it would fit me, since it started off as an XL t-shirt. It took a few tries for me to finally get the t-shirt at the right size, but when I did, I realized the top was very loose. That was when I realized that I could turn it into an off-shoulder wrap top, which I really liked because it was simple and casual.
Lisa W.

Sophomore at George Washington High School


Figuring out how to use a sewing machine, the pieces of the tote slowly came together. I designed my tote after a lot of trial and error, some pieces too big and some pieces too small. I ultimately decided to make a hand held, medium sized tote. Easy to carry with practical use. My design was a simple plant theme, after bouncing through different ideas, this seemed to intrigue me. Although you may not be able to see the macrame it has a brown pot and white fringes. My first design was a cat in a bag, which I made from a plastic stencil which I learned from the YAX Fashion Design class.
Mistake (02) Blanc(03)
White XL T-Shirt
For the shirt, I knew I was bound to make a mistake, so I took an old roughed up t-shirt for a practice. As predicted, a mistake happened. While painting the designed stench, the paint smudged, I panicked but good thing this was just a practice. I ended up dying the shirt and using bleach to have the splotched effect, kind of like a tie-dye effect. Afraid, I ended up taking the original shirt and styled it with a cream colored blazer, flowy jeans, the tote, and flats. Even though these shirts don't match my plant theme, it is a nice casual outfit.
Rose Garden, portal
Elastic, Rose pattern fabric

Since the pandemic, my mom has been making a bunch of homemade masks, so I learned from her. Using some material and instructions that she provided, I sewed my mask. 2 layered, rose patterned with a filter in between, this is my go-to mask, easy, convenient and cute. (goes with the white shirt outfit). The one in the picture is the Portal, this one matches with the tie-dye shirt, same instructions just different fabric.



Michaela N.
Senior at Mission High School
Basic Tye Dye
Cotton

I always love to make tye-dye materials. From socks to shorts, it's my favorite way of doing somewhat cloth making.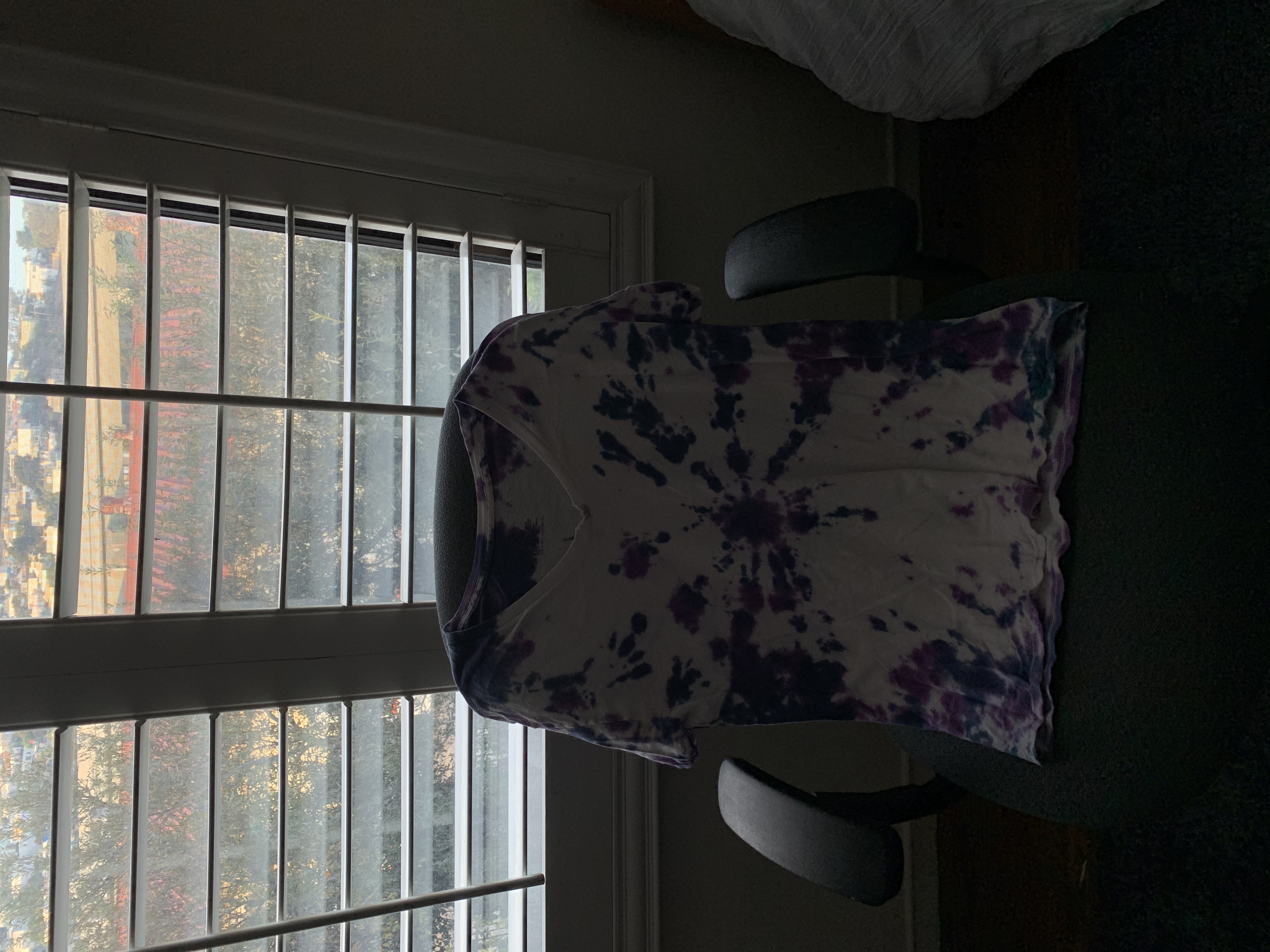 Cotton Vase Mask
My inspiration was from my uncle's girlfriend. This is a print I found reminded me of her and gave me the idea to use this as my theme for my mask project. Otherwise, making this is a way for me to represent justice to what's going on in the world right now.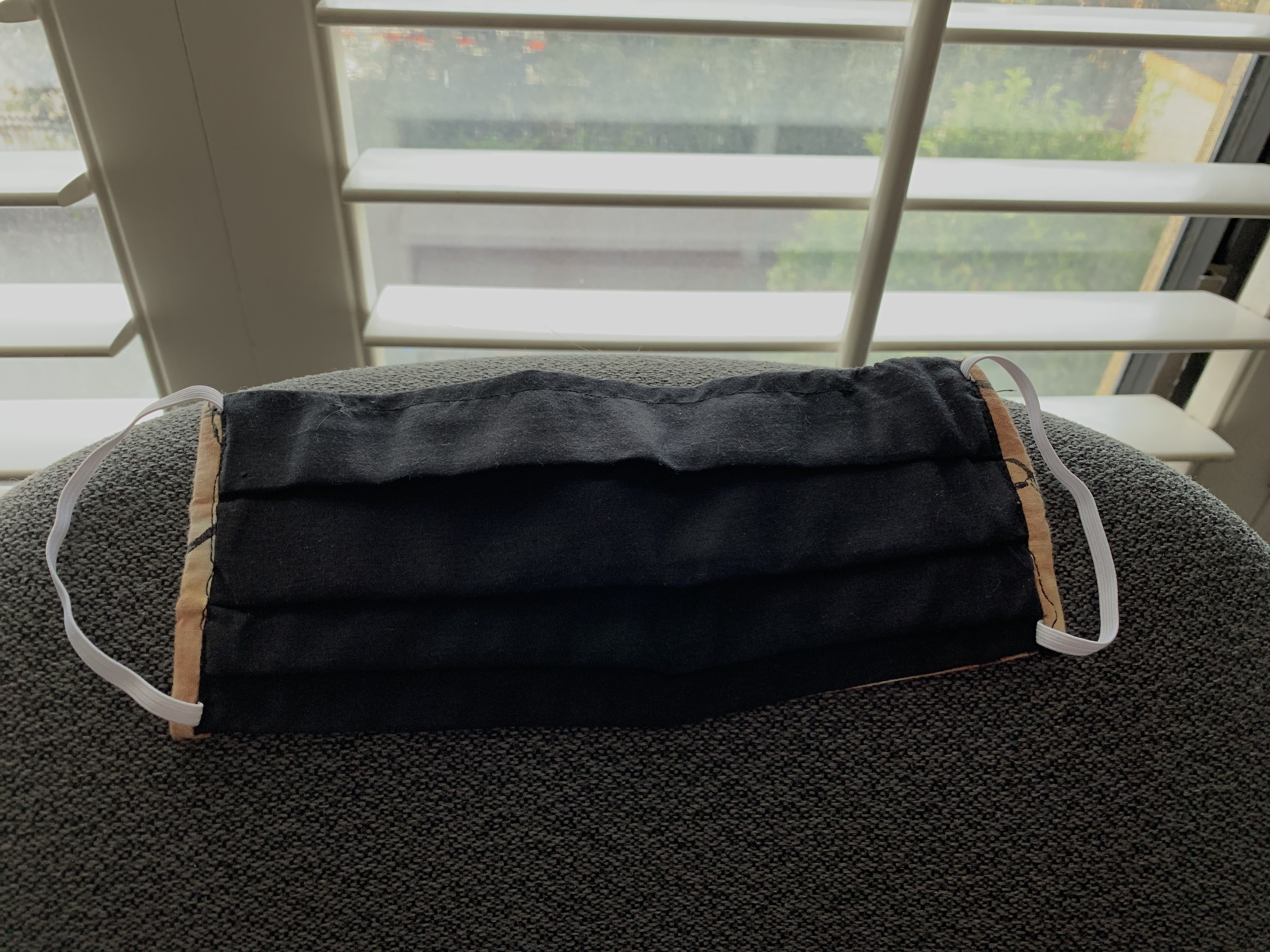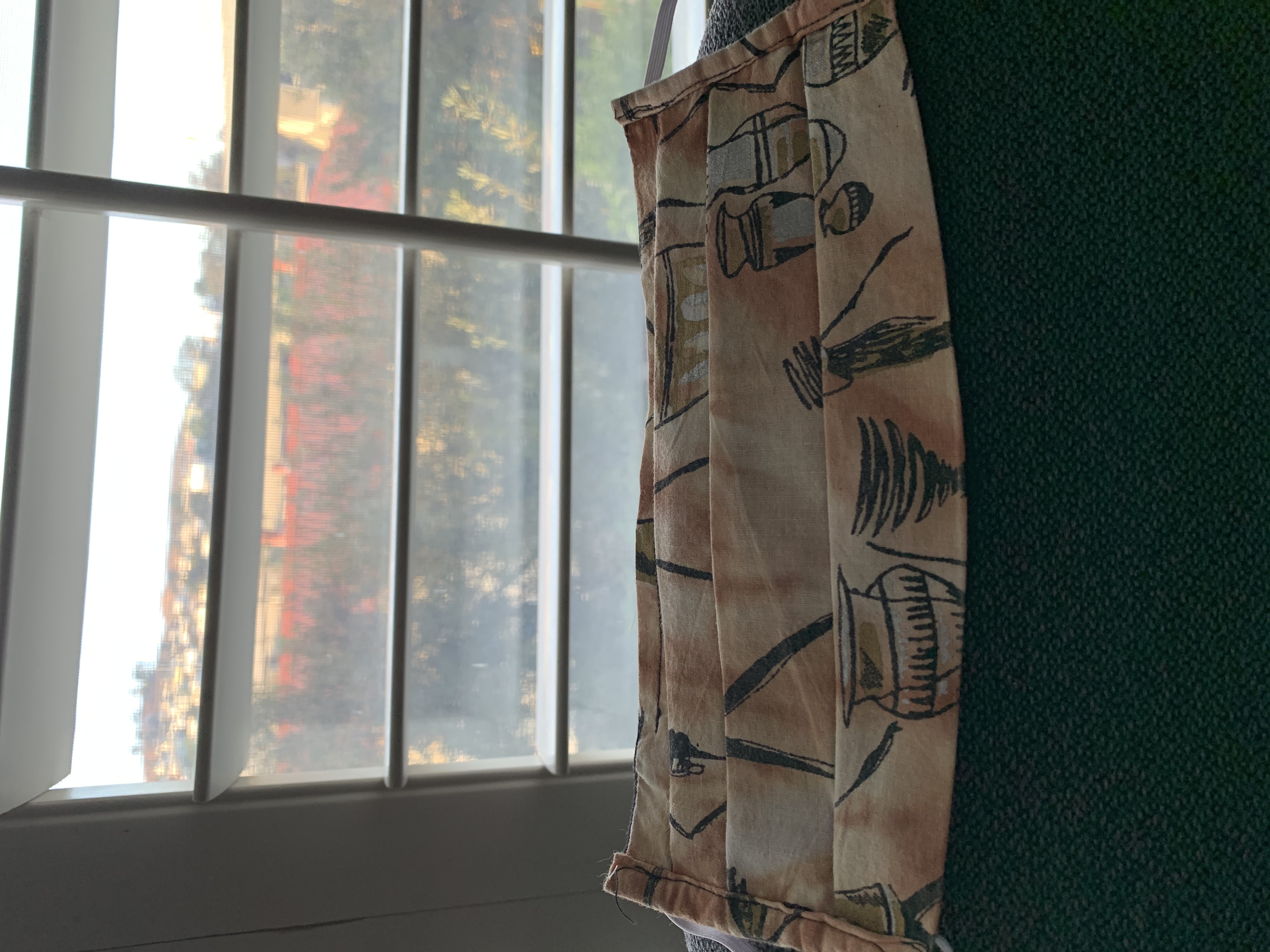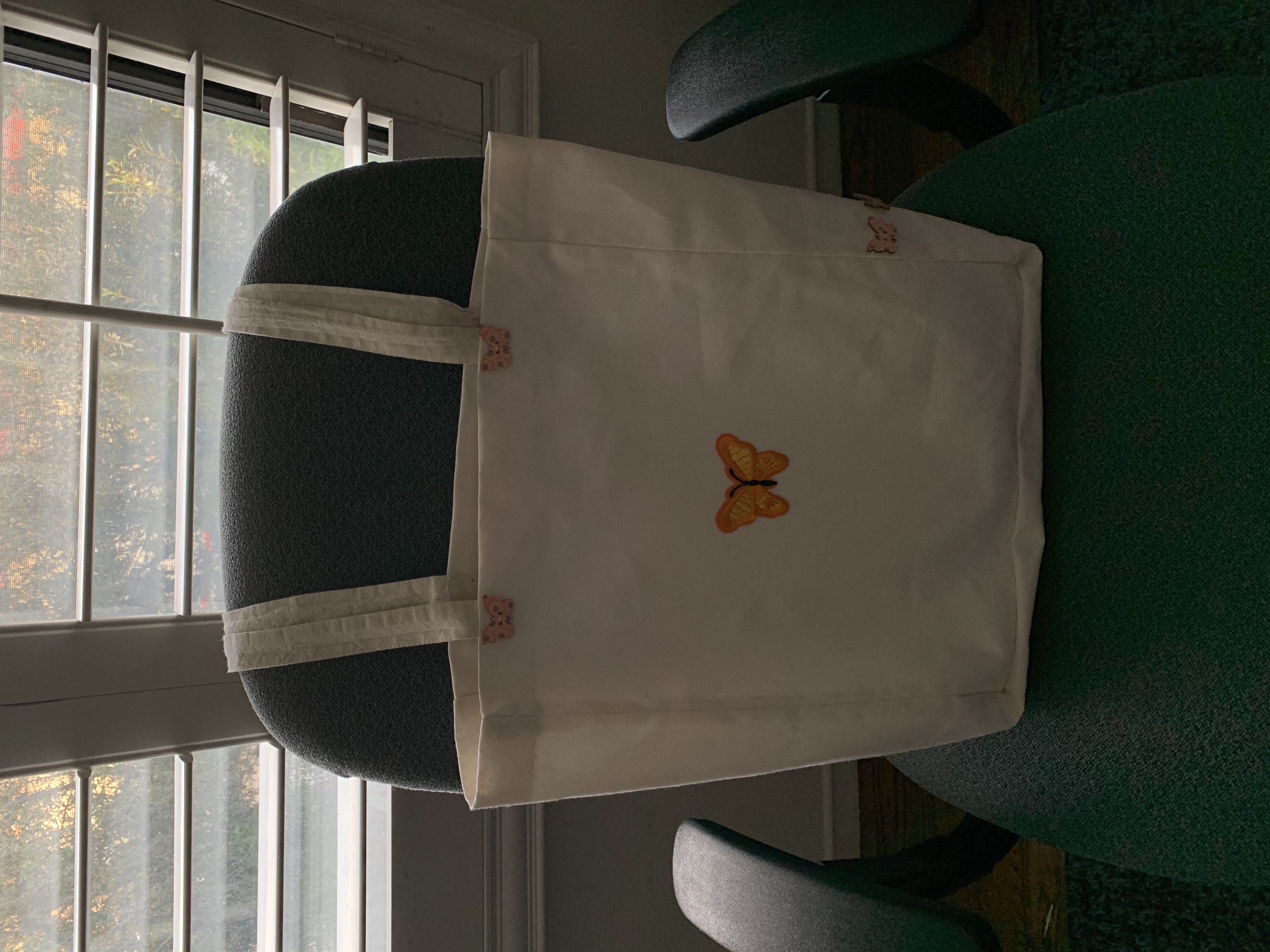 Blue Butterfly Tote
Canvas

I wanted to create a piece that inspires my love for butterflies. I see them as a symbol of leisure, beauty, and kindness. I used warm colors to make the tote look brighter and playful.
Trisha N.

Junior at Lowell High School